Music
Greece rejoices in connection with the victory of Helena Paparizou in the Eurovision final in Kiev
Greece rejoices in connection with the victory of his singer Helena Paparizou in the final of Eurovision in Kiev. The sounds of crackers, car horns, fireworks over Athens, the delights of crowds of people gathered in the center of the city – this is the success of their country in the Greek capital.
In 2001, Elena Paparizou, born in Sweden in a Greek family, took third place in the Eurovision Song Contest as part of the Antik group. Last year, the Greek singer Sakis Rouvas repeated this success. And this time a convincing victory. The fiery song "My Number One" is now sung by thousands of people on the streets of Greek cities.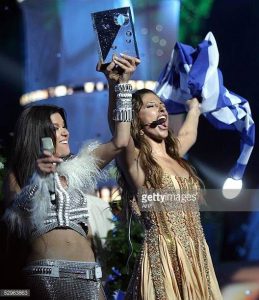 "This is a unique moment. We are all happy. I think we were worth it. Next year Athens will be ready to host Eurovision," Elena Paparizou, the mayor of Athens, Dora Bakuyani, celebrating this victory, said in a television interview.
In recent years, the 23-year-old Greek beauty has become one of the most popular singers in Greece, who does not at all lack talented performers. Her "promotion" before the Eurovision Song Contest was carried out exclusively professionally. Photos of the singer did not leave the front pages of Greek newspapers and magazines. She participates in television programs, gives interviews. Her videos and the melody of the song "My Number One" have already become recognizable and loved here. On the eve of an exciting musical marathon in Kiev, Elena Paparizou visited a number of countries, including Russia, where she captivated the audience with her performances. She was better known and loved outside of Greece, so the Greeks justifiably hoped for the support of their singer, not only Cypriots. And they were not mistaken. In addition to Cyprus, the Greek singer received the highest 12 points in the voting of viewers in neighboring countries – Albania, Bulgaria, Serbia and Montenegro, Hungary, Turkey, "native" Sweden, as well as in large European countries with a significant Greek diaspora – Germany, Britain, and Belgium .
"At such difficult competitions as Eurovision, one must consider that getting into the top five is already a success, and everything else depends on God," said Christ Dantis, the author of the music of My Number One, ahead of the contest. By the way, about higher powers. The Eurovision finals were held in Kiev, when Greece celebrated the day of Saints Constantine and Helena, and all the owners of these, perhaps the most common names among the Greeks, received numerous congratulations and celebrated birthday.
This post is also available in:

English

Русский (Russian)