Music
Greece became the winner of Eurovision 2005
Eurovision winner Helena Paparizou from Greece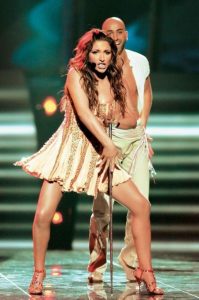 On the night of May 21-22, the 50th anniversary song contest "Eurovision" ended in Kiev. The winner of the Eurovision Song Contest 2005 was the Greek singer Elena Paparizou. This became known on Sunday night after summing up the results of telephone and SMS voting, in which residents of the European continent took part.
According to the results of the vote, viewers from 39 countries won the Greek singer (citizen of Sweden) Helen Paparizou, who performed the song My Number One to the music and lyrics of Christos Dantis and Natalia Germanou. Elena scored 230 points, overtaking her closest competitor – Malta – by 38 points. This is Elena's second Eurovision performance, this time solo, which brought her victory.
According to the rules of Eurovision, next year the competition will be hosted by the winning country, that is, in Greece. Experts have no doubt that there will be all the conditions for this: recently, Athens successfully hosted the Olympic Games.
The second place was taken by the singer from Malta – Ciara, the third – the Romanian band Luminita Anghel.
Singer Natalia Podolskaya, representing Russia, took only 15th place.
President of Ukraine Viktor Yushchenko presented the winner with a special prize of Ukraine – a golden pictorial.
For the victory in the final of the competition in Kiev, 24 performers fought.
In total, the competition was attended by representatives of 39 countries.
This year, a record number of performers have applied for participation in the competition.
Elena Paparizou is a Greek woman who grew up in Sweden. She performed at the Eurovision Song Contest 2001 as part of the Antique duo (Nikos Panayotidis and Elena Paparizu). Then the performers failed to rise above third place. Later, Elena began a solo career. This year in Greece, instead of choosing between several performers, they chose one Elena with three different songs, for which the Greek audience later voted. Their choice rested on the song "My Number One", with which Elena won the competition in Kiev. The stage production was carried out by Fokas Eyvaylinos, a very famous choreographer in Greece, with the support of a large team, which gathered thanks to the recording company Sony Music.
This post is also available in:

English

Русский (Russian)