Beauty
Miss Europe 2006: 33 most beautiful faces of the continent
On the stage of the national palace "Ukraine" in Kiev tonight will go 33 of the most beautiful girls on the continent. But only one of them will get the crown of the beauty queen.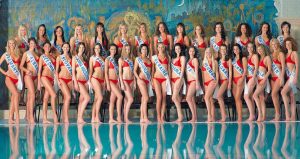 The fate of the most beautiful women in Europe was decided yesterday
The chairman of the jury, the famous Italian Roberto Cavalli, the author of worn jeans and leopard underwear, conducted a short interview with each of the contestants. "How are you?", "What do you like?", "What do you dream about?", "What profession did you choose?" – these are some questions that the maestro was interested in this evening. Miss Armenia was most unlucky: after the brunette admitted that she did not know English, a conversation with Cavalli did not work.
The purpose of a small interview for each contestant and fashion show in swimsuits and dresses was to select the semi-finals. It was after him that very evening that the jury secretly from all decided the names of 12 lucky ones. We will recognize them today, October 27th. The competition will be held in the metropolitan palace "Ukraine" and will be broadcast live in 12 European countries. Despite the fact that the names of the semi-finalists were known by the jury on Thursday evening, all the participants will enter the stage of the Ukraine Palace tonight.
This post is also available in:

English

Русский (Russian)