Beauty
Miss Europe 2005 – Iranian Beauty Shermin Shahrivar
This post is also available in:

English

Русский (Russian)
[dropcap]T[/dropcap]he representative of Germany with a completely non-German name, Shermine Shahrivar, became the winner of the "Miss Europe 2005" competition, which took place on Saturday evening in Paris. The winner is known that she is 22 years old, she has just graduated from the university and that she speaks four languages: German, French, English and Farsi.

The most beautiful girl in Europe recognized Iranian from Germany
Dark-haired Miss Germany, Shahrivar Shermine, a 22-year-old of Iranian origin won the title of Miss Europe 2005 in Paris.
The 1.74 metre (5ft 10 inch) beauty queen, who has just finished her university studies, speaks German, Farsi, English and French. Her hobbies are horse-riding and swimming.
Among the judges of the contest, beamed live to more than 50 countries, were singer Charles Aznavour and couturier Paco Rabanne.
The other finalists were Miss Armenia, Miss France, Miss Slovakia and Miss England.
[padding left="5%" right="5%"]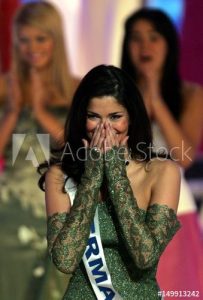 The title of First Vice-Miss Europe was received by 19-year-old Yusya Tovmasyan from Armenia. Other finalists of the competition, held in the hall of the Paris Sports Palace, were representatives of France, Slovakia and England.
Representatives from 36 countries participated in the competition, which was held in the hall of the Paris Palace of Sports.
Russia was represented by 19-year-old Diana Zaripova from Naberezhnye Chelny, who is now studying at one of Moscow's universities. Alas, she was not able to get even among the 12 quarter-finalists.
The main European beauty was determined by a jury composed of nine professional representatives of modeling and show business. Its chairman was the famous Slovak top model Adrian Karembé, who, before marrying the now former defender of the French football team, bore the name Sklenarikova. In addition to her, the jury included such famous personalities as the chansonnier Charles Aznavour and couturier Paco Rabanne.
[/padding]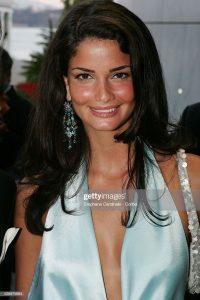 The representative of Germany with a completely non-German name Shermin Shahrivar won the Miss Europe 2005 contest
Due to disagreements between the organizers, representatives of Italy have not participated in the competition for several years, although at one time it was Miss Europe that opened the world to Gene Lollobrigida and Sophia Loren.
The Miss Europe 2005 competition was broadcast live on the French TV channel TF-1 and transmitted via satellite to several other countries. In many European countries, including Russia, it will be shown on record.
[padding left="5%" right="5%"]
Photo of the participants of Miss Europe 2005